Prescott Lawn Bowling Club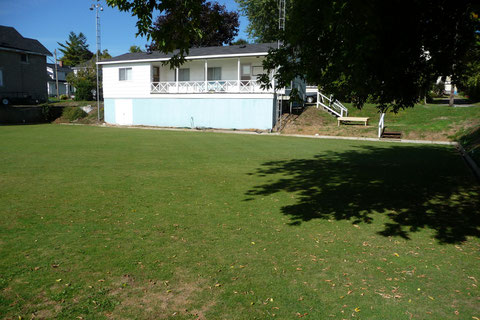 Prescott Lawn Bowling Club
Located at 455 Dibble Street West, in Prescott, Ontario.
Information: Mary Campbell (613) 925-5363
Email: prescottlawnbowling@gmail.com
Bowling Monday and Thursday evenings at 6:15 pm arrival (6:30 SHARP start time) through the summer.
New Bowlers, Visiting Bowlers, or "thinkin' about it" spectators are all welcome.
Drop by to watch, or try your hand at lawn bowling.
Members are happy to explain the game and show you how. Club bowls are available for you to use, so you just need to stop by.
NEW THIS SEASON! KIDS LEARN TO BOWL PROGRAM
WHAT: Lawn Bowling - Some Serious Fun!
WHEN: Friday evenings 6 - 7:30 pm
Choose a session: July 13- Aug. 3 OR Aug. 10-Aug. 31, 2018
WHO: Children ages 8-12
WHY: To learn a new sport outdoors with friends.
COST: FREE - Funded by Healthy Kids Community Challenge Leeds Grenville POWER OFF AND PLAY initiative.
All equipment and coaching provided. Flat soled shoes (eg. running shoes) are required.
REGISTRATION: Register early: Maximum 24 kids per session.
For more information: Town of Prescott Recreation(613) 925-2812
prescottlawnbowling@gmail.com